Share your science: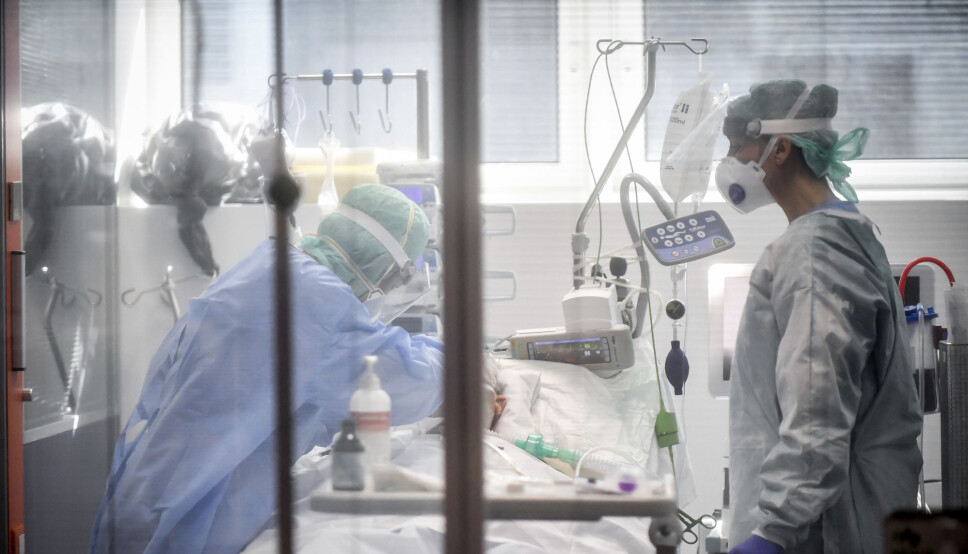 Multi-drug resistant bacteria: When the immune system during COVID-19 is attacked from two fronts
SHARE YOUR SCIENCE: Norwegian COVID-19 patients who get a secondary bacterial infection leading to pneumonia, are better equipped in their struggle against this than Italian patients. Are we doing enough to find new technology against multi-drug resistant bacteria?
This article was first published in Aftenposten Viten (In Norwegian)
The COVID-19 pandemic that fills the media now is caused by the SARS-CoV-2 virus. As of April 24, SARS-CoV-2 has caused 191,074 deaths worldwide and 25,549 in Italy alone. The numbers are alarmingly high and rising rapidly.
Over 190 deaths have been reported in Norway, with growing hopes that the figures may flatten out there over the next weeks.
So what are the possible reasons for this striking difference between Italy and Norway? Some of the answers to this may be found in demographic and cultural differences, and differences in health care.
Lessons from previous epidemics
What can we learn from previous epidemics?
The swine flu epidemic in 2009 resulted in approximately 300,000 deaths. Julie L. Gerberding, former chief of the US Center for Disease Control and Prevention (CDC) estimates that 29 to 55 per cent of those deaths were caused by a secondary, bacterial infection leading to pneumonia.
During the COVID-19 pandemic, a report published showed that 92 per cent of covid-19 patients admitted to hospital in Wuhan, China, received antibiotics and approximately 50 per cent of fatalities also had secondary bacterial infections.
We have no effective remedies for diseases caused by coronavirus, and before the advent of antibiotic resistance, we were used to bacterial infections being effectively treatable with antibiotics.
Italy vs. Norway
Before the COVID-19 crisis, Italy was already one of the countries worst hit by deaths from multi-drug resistant (MDR) bacteria in Europe. Around 11,000 people in Italy die annually from such infections, compared with just over 33,000 across Europe.
A study by the European Center for Disease Prevention and Control (ECDC) revealed that approximately 30 per cent of all infections in Italy were caused by drug-resistant bacteria. Even new antibiotics (used as a last-resort) had little or no effect against these infections.
Unlike Italy, Norway has some of the fewest cases of MDR bacterial infections and has some of the world's strictest guidelines on antibiotic usage, restricting their use to only the most serious illnesses.
COVID-19 patients in Norway who develop secondary bacterial pneumonia may therefore have a better likelihood of successful treatment with antibiotics than Italian patients have.
Fighting on two fronts
An important point is that the immune system of COVID-19 patients in regions with high antibiotic resistance may be fighting on two fronts simultaneously, the virus and MDR bacteria.
Although the statistics suggest this, we do not yet have enough good scientific data to document this connection for certain. It is a preliminary trend, rather than a conclusion.
Research collaboration in Norway
Norway is at the forefront of work on vaccines and treatment of viral infections. But are we doing enough to meet the threat of antibiotic resistance? Are we supportive in discovery and development of new technologies for clinical use?
Norway has committed to increase the pace of development of new technology, coming out of Norwegian research environments. As well as helping to future-proof a cornerstone of modern medicine, such projects form the basis of new start-ups and spin-out companies that can provide new jobs in the life science and pharmaceutical sector in preparation for the end of the 'age of oil'. One of several exciting and promising projects in Norway is the ZinChel project, which grew out of a collaboration between the University of Tromsø (UiT) and our research group at the University of Oslo (UiO).
We patented a cutting edge technology (ZinChel) that has proved very effective against a wide range of MDR bacteria including those that Northern Italy has struggled with for several years, and which is increasingly, spreading across the globe.
These pathogenic bacteria, referred to as Gram-negative bacteria, have armed themselves with enzymes called beta lactamases, capable of breaking down some of our most important antibiotics, severely limiting treatment options.
These bacteria are at the top of the WHO's list of 12 'priority pathogens', representing the most dangerous bacteria in the world. Antibiotic resistance can render modern medicine useless. And it will be our own fault.
Reduced use of antibiotics
The most promising ZinChel product, ZN148, is an easy-to-produce, water-soluble molecule that in itself has very low toxicity towards the bacteria or host organism, instead functioning as an antibiotic helper molecule. Such substances are called adjuvants.
Carbapenems are an important class of modern, 'last resort' antibiotics. These drugs however no longer have an effect on a number of MDR bacteria on the WHO list causing infections in hospitals.
Our adjuvant, ZN148, when given together with a carbapenem, restores the sensitivity of the bacteria to the antibiotic, up to an increase of 500-fold compared to without ZN148 in some cases.
In this way, we are able to preserve the effectiveness of existing antibiotics, supporting the other aims of our antibiotic resistance network: reducing antibiotic use and changing the way we use them.
We have tested hundreds of ZinChel and, as with any exciting new treatment; have begun the most promising of them in animal models. The work has been supported by, among others, the Research Council of Norway, NOVO Pre Seed and UiO/UiT.
Unfortunately, the technology is not available to patients yet as developing drugs is a long and expensive process which requires long-term commitments.
Will develop the technology further
A biotech company, AdjuTec Pharma AS, has been established with the aim of further developing the product together with our researchers at UiO, in the UK and other partners. Adjutec Pharma collaborates with Oslo Cancer Cluster Incubator, which is supporting and advising the company as it seeks to establish itself and secure vital investment and resources required to advance ZinChel through the clinical development pipeline, towards the clinic.
These services are paid by Siva, a publicly owned company that promotes growth of industry and business in Norway. In response to the urgency of the situation and in the interests of the public good, AdjuTec has already lined up one Norwegian manufacturer who is ready to produce ZinChel at the scale required. Another Norwegian company wishes to test the medicine in patients, once approved to do so, several private investors are poised and Innovation Norway has committed it's support.
Our research group has a strong desire to develop the technology further together with all stakeholders. Done correctly, this project can provide patients with vital treatment options currently lacking and, in the future, contribute to the growth of the health industry in Norway, creating new jobs and a skilled workforce.
We believe we have an ethical and moral responsibility to bring our technology to the market and the clinic as quickly and safely as possible. There is no time to lose and we stand ready.
References:
Julie L. Geberding, Antibiotic resistance: the hidden threat lurking behind Covid-19, STAT, 23. mars 2020
European Centre for Disease Prevention and Control. Regional outbreak of New Delhi metallo-beta-lactamase producing carbapenem-resistant Enterobacteriaceae, Italy, 2018–2019 – 4 June 2019. ECDC: Stockholm; 2019.
ZinChel, Adam Heikal, Overcoming Antibiotic Resistance
———
Share your science or have an opinion in the Researchers' zone
The ScienceNorway Researchers' zone consists of opinions, blogs and popular science pieces written by researchers and scientists from or based in Norway.
Want to contribute? Send us an email!